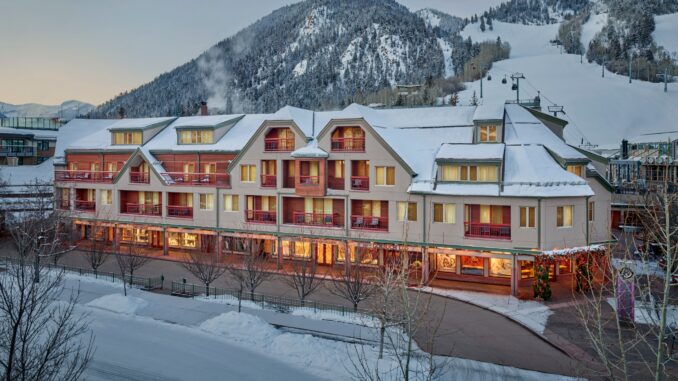 The Little Nell in Aspen, Colorado, has implemented the INTELITY platform, via smart-room tablets, which provide the property's guests with a more digital, upscale experience, as well as GEMS®, INTELITY's collection of staff-facing tools. The Little Nell is Aspen's only five-star, five-diamond, ski-in/ski-out hotel. The property boasts luxurious amenities, personalized service, beautiful mountain views, renowned restaurants, and spacious accommodations, including 92 guest rooms and suites.
Each of the rooms and suites now features INTELITY's robust guest experience platform delivered on a Bluetooth-enabled smart-room tablet that acts as a digital compendium to provide guests with detailed information regarding all aspects of the property, including, services, amenities, menus for on-site restaurants, a list of events, and more. With a tap of a finger, guests can request services and amenities, while staff can easily track and manage these requests via the INTELITY back-end platform and its integration with the property's internal communications system, ALICE. The Little Nell's team can manage all content of the smart-room tablets from the INTELITY platform's backend, including real-time updates to their digital compendiums, food and beverage menus, and digital storefront items. Additionally, the INTELITY-powered smart-room tablets provide guests with access to news and media sites, as well as allow them to check their flight status.
"The INTELITY platform provides us with endless application options to best inform our guests and offer conveniences for them, and the digital aspect of delivery over tablets supports our environmental and sustainability efforts by reducing the amount of paper collateral needed in a guest room, which has long been one of our objectives," said Henning Rahm, The Little Nell's General Manager. "We are excited to have partnered with INTELITY on this initiative."
Additional benefits for The Little Nell are the advertising capabilities that INTELITY's platform provides by allowing the property to promote its activities, adventures, and on-site events directly to guests. From the menu item tabs to the ad banner, guests can easily navigate through the list of free and for-purchase events and activities to enhance their stay in Aspen. The home screen configuration acts as a smart display with features, such as reservation details, date, time, and weather, plus the ability to set up alarm clocks. Guests can also check on and keep track of their requests and any accrued charges to their room during their stay.
Thanks to the INTELITY platform's integration capabilities, the smart-room tablets are also integrated with The Little Nell's internal service request system, which allows guests the convenience of submitting a variety of requests — from fresh towels to ice buckets to dog bowls.
"We are delighted to have added The Little Nell to the INTELITY family of properties," said Robert Stevenson, INTELITY's CEO. "INTELITY's platform will create a more seamless and memorable journey for guests at one of the best ski destinations on the planet while easing the back-of-house operations for The Little Nell's staff."
Does your company have news it would like to share with our readers? If so, we invite you to review our editorial guidelines and submit your press release for publishing consideration.