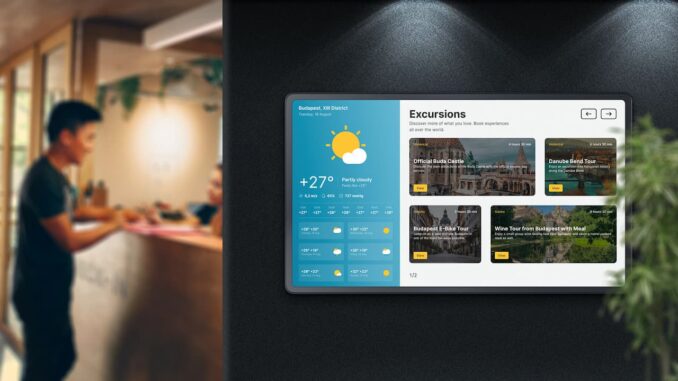 Within the hospitality industry, the guest experience serves as a key differentiator. The way you position your establishment to provide remarkable experiences, including staycations and other emerging trends, sets you apart from the competition.
As a hotelier, the moments when your guests anticipate an exceptional stay and actually receive it are what you live for. These moments signify your success in achieving customer loyalty and satisfaction.
We are currently living in a digital age where opulence alone is no longer sufficient. Customized content displayed on screens, ranging from the drive-through to the guest rooms, enhances the ambiance and sophistication of your hotel.
The following are just some of the various ways in which you can utilize digital signage within your hotel to provide the ultimate guest experience.
Create a Sense of Place Using Wayfinding Signage
For guests arriving at your hotel for the first time, nothing diminishes their excitement faster than a sense of disorientation. To ensure a seamless navigation process, especially for individuals with disabilities or limited mobility, wayfinding signage becomes indispensable.
Here are five key examples of effective wayfinding solutions for digital signage:
At the entrance, inform your guests of their arrival.
In the lobby, assist with wayfinding to the check-in desk, elevators, and other amenities.
Along hallways and corridors, guide your guests to their rooms or other locations within the hotel.
In areas where rules and regulations apply, such as safety signs, no smoking signs, and emergency exit signs.
In common areas, such as restaurants, pools, and conference rooms, provide guidance and information about available services or events.
Ensure that your hotel's digital signage is simple and easy to read. Utilize a clear font and a limited color palette that aligns with your brand. Signage at decision points such as elevators or restrooms should be concise and placed at eye level for maximum visibility.
Conduct regular audits to keep your content relevant and up to date, especially after major renovations or changes in amenities or services. Moreover, strategically spread out effective signage to prevent overwhelming or confusing the guests.
Elevate Your Hospitality Game With a Digital Concierge
Virtual assistants are revolutionizing the customer experience at a rapid pace. In the hospitality industry, the digital concierge is becoming the standard in high-end hotels striving to make a lasting impression.
A virtual concierge automates repetitive tasks and reduces the need for extensive human interaction, allowing guests to enjoy a more relaxed and hassle-free experience. The digital concierge can:
Provide a seamless and time-saving digital check-in process.
Address guest requests before, during, and after their stay, including providing answers to custom FAQs.
Suggest custom room upgrades during the pre-arrival stage.
Direct specific requests to the appropriate staff and provide guests with surveys and reviews to enhance their stay.
Send targeted messages about products and services based on individual taste and preferences.
The benefits of a virtual concierge go beyond convenience. By utilizing data analytics and machine learning, it gathers valuable insights into guests' preferences and behavior, enabling personalized services and offerings.
When designing digital concierge services, prioritize simplicity and ensure an intuitive and user-friendly interface. Additionally, incorporating multilingual support into your digital concierge can enhance up-selling and cross-selling campaigns, appealing to a global audience.
Enhance the Guest Experience With Customized In-room Entertainment
Modern guests have high expectations when it comes to enjoying their favorite streaming and gaming services. To meet these expectations, consider offering rooms with pre-installed apps on Smart TVs, allowing guests to have an engaging and immersive entertainment experience.
In addition to customized in-room entertainment, utilizing in-room signage can further enhance the guest experience. These digital displays can inform guests about the services, amenities, and special promotions available at your hotel. For example, you can showcase on-site dining options, spa services, local attractions, and upcoming events.
Personalization is key in creating a sense of familiarity for guests. When guests are greeted by a display with a welcome message featuring their name and relevant details about their stay, it enhances their connection to the hotel. This level of personalization is particularly important for guests planning a prolonged stay.
Take inspiration from citizenM Hotels, where guests enjoy fast WiFi for streaming content on popular platforms. The LED/LCD widescreen TVs in their rooms offer the ultimate 'Netflix and Chill' experience. The inclusion of Chromecast and Airplay capabilities allows guests to easily cast content from their own devices.
Avoid using generic content in your displays. Being creative and personalizing the messaging to reflect your hotel's branding and design language makes guests feel seen and valued.
Make the Culinary Adventure Unforgettable
Technology can significantly enhance the dining experience in hotels. By installing digital displays, you can provide visual appeal and interactivity, automating certain activities.
Interactive kiosks streamline the ordering process and reduce perceived wait time. Guests can place custom orders and make payments using a card or mobile phone.
Digital menu boards can showcase the menu, wine list, daily specials, and promotions, simplifying the decision-making process for guests.
Real-time updates on wait times, table availability, and other important information enable guests to make informed decisions and enjoy their meal without unnecessary delays or disruptions.
Further, digital signage can be used to display interactive content such as videos or animations. This can educate guests about the hotel's culinary offerings, highlight special events or promotions, and provide entertainment while they dine.
By mastering visual appeal and leveraging technology, you can create a lasting impression on your guests. From a seamless navigation process to a one-of-a-kind dining experience, effective digital signage plays a pivotal role in delivering a memorable guest experience.
Ultimately, your goal should be to impress your guests to the extent that they leave a five-star rating and write a glowing review about their experience at your hotel.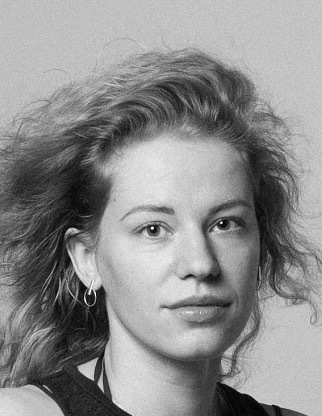 Aleksandra Gavrilova is a marketing specialist at Look Digital Signage, which offers a digital signage solution for hotels, restaurants, cafes and bars. The company's award-winning simple and reliable software solution allows for remote management of digital screen networks of various scales and purposes. A professional writer with over 10 years of experience, specializing in topics such as marketing, advertising, and technology, she has written multiple articles in the Look Digital Signage blog.
Are you an industry thought leader with a point of view on hotel technology that you would like to share with our readers? If so, we invite you to review our editorial guidelines and submit your article for publishing consideration.