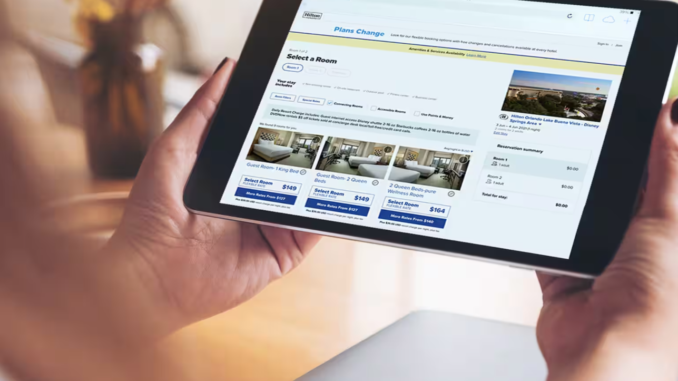 Hilton is rolling out two new digital innovations aimed at enhancing the travel experience for small- and medium-sized businesses. Both initiatives are set to launch early next year, according to a company statement.
The first initiative, Hilton for Business, is a multi-faceted program currently being tested with select customers. It features a new booking website specifically designed for small- and medium-sized businesses and offers a range of targeted benefits. These include portfolio-wide discounts, loyalty benefits, rapid onboarding, and program management. Businesses that join Hilton for Business will gain access to a discounted rate across Hilton's global portfolio of over 7,000 properties. They will also earn Hilton Honors Bonus Points for program registration and travel milestones.
The second initiative involves the expansion of Hilton's events booking capabilities to support the growing demand for in-person gatherings. Customers will be able to book meeting packages for up to 35 attendees, including guest rooms and meeting or event spaces, directly on Events.Hilton.com. This feature is particularly beneficial for small and medium-sized businesses that need to plan small in-person meetings and events quickly without staff or third-party support.
Chris Silcock, executive vice president and chief commercial officer at Hilton, noted that despite the global pandemic's impact on travel, small- and medium-sized business travelers remained active. He said, "We used that opportunity to listen and learn how we could solve long-running pain points and deliver what these businesses need most — simple booking and travel management tools and recognition and rewards for their loyalty."
These initiatives follow a year of innovations aimed at addressing the needs of today's small- and medium-sized business traveler. This includes the launch of two new brands, Spark by Hilton and Project H3 by Hilton.
Among its recent technology-enabled initivatives, the company last month announced plans to install at least six electric vehicle (EV) chargers at 2,000 of its North American hotel properties, purchasing the devices from Tesla. Once the installation is complete, Hilton will own more EV chargers than any other US-based hotel group. The move is aimed at alleviating 'range anxiety' for travelers, according to Hilton's chief brand officer, Matt Schuyler.
The chargers will be Tesla Universal Wall Connectors, designed to charge any North American electric vehicle, not just Tesla models. Hilton has been installing EV chargers since 2015, but these have only been compatible with specific vehicle models. The new chargers will be installed starting next year, with locations yet to be determined.
Earlier this month, Hilton reported its third quarter results for 2023, revealing a net income of $379 million and an adjusted EBITDA of $834 million. The company also reported a system-wide comparable RevPAR increase of 6.8 percent compared to the same period in 2022, and an 11.4 percent increase compared to the same period in 2019, both on a currency neutral basis.
The company added 15,700 rooms to its system in the third quarter, resulting in 14,300 net additional rooms during the period. Hilton also expanded its brand portfolio of open hotels, with the openings of the first Spark by Hilton and the first Tempo by Hilton during the third quarter.
Looking ahead, Hilton expects full year 2023 system-wide RevPAR to increase between 12.0 percent and 12.5 percent on a comparable and currency neutral basis compared to 2022. The company projects full year net income to be between $1,375 million and $1,389 million, and full year adjusted EBITDA to be between $3,025 million and $3,045 million. Hilton also projects full year 2023 capital return to be between $2.4 billion and $2.6 billion.