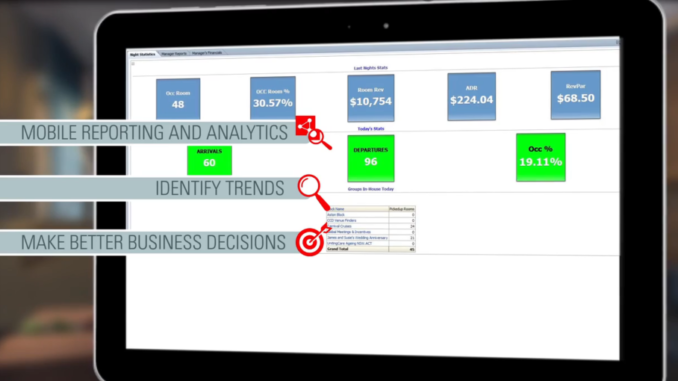 Oracle Hospitality today announced that it has released the latest version of OPERA Cloud Service with a range of new innovations, including a completely redesigned user interface and deeper customer insights. According to a company spokesperson, the goal is to enable hotel personnel to focus on being able to better connect with guests and deliver personalized guests experiences that drive satisfaction and loyalty.
Oracle Hospitality OPERA provides a full-featured property management system (PMS) that enables hoteliers to deliver world-class guest service and increase operational efficiency across the property.
Platform capabilities include a next-generation reporting solution that enables every hotel team member to execute mission-critical decisions based on data and facts rather than on speculation and gut-level instinct. With OPERA Reporting & Analytics, which includes three out-of-the-box standard dashboards and sample reports, hotel personnel from operations managers to revenue teams can swiftly view and deliver insights such as average daily rates, room revenue by property, guest profiles, reservation blocks and sales and catering information.
With the new release, Oracle expects that its hotel customers will be able to deliver on the guest experience in unprecedented ways, whether interacting on a cloud-based or mobile-enabled platform. With the new release, OPERA Cloud Service now offers open APIs enabling faster and easier integration with third party providers. By moving the property management system to the cloud, hotels can reduce dramatically their IT complexity.
OPERA Cloud's innovations a new "look to book" feature provides room type and rate inventory for single- and multi-property reservations via a shopping cart view for faster booking. Existing reservations are easily located via several search options, and one-click access to guest details helps staff understand which guests are VIPs, repeat customers, loyalty members as well as their preferences. Group bookings have also been streamlined.
New features allow hotel operators to make the check-in process seamless and consistent with a set of customizable steps. OPERA Cloud is mobile-enabled, allowing staff to check-in guests on tablets, eliminating long lines and guest frustration while delivering a more personalized check-in experience.
Enhanced check out capabilities make it easy to settle bills, including preparing and routing bills with multiple folios. Drag and drop functionality makes it easy to transfer a posting to another folio or room. Integration with EMV credit card settlement eases payment processing from the desk or a mobile tablet makes it easier to serve the customer in the most convenient locations.
A unique feature is OPERA Cloud's "I want to" panel, which enables personnel to easily find tasks they need to perform such as assigning a room, canceling a reservation, checking in a guest, or creating an invoice.
Oracle has come a long way in the five years since it acquired MICROS and launched Oracle Hospitality as a new global business unit dedicated to helping the hospitality sector accelerate its move to the digital economy. The release of this newest version of OPERA Cloud Service represents the company's next rung on its evolutionary ladder.