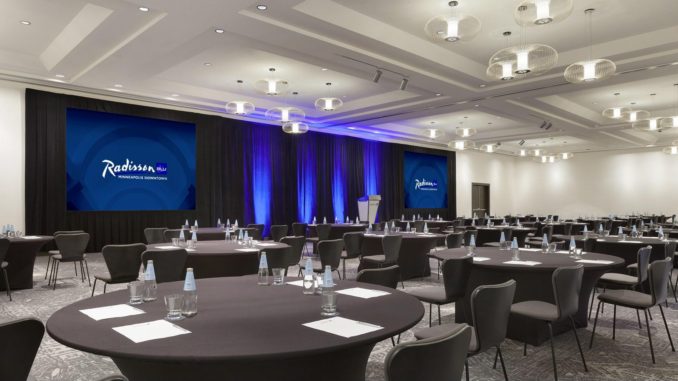 Last year, Radisson Hotel Group (known until last year as Carlson Rezidor Hotel Group) announced that it would embark on a comprehensive five-year strategic plan which includes investments into platforms and technology. The company appears to be making good progress.
Meetings and events were to play an important part in the plan. The company has invested heavily in its meeting venues at its 1,100 hotels worldwide, including such hotel brands as Radisson Blu, Radisson, Radisson RED, Park Plaza, Park Inn by Radisson and Country Inn & Suites by Radisson. This week, it announced the launch of its new technology platform, called Radisson Meetings.
Implementation of the state-of-the-art IT infrastructure and distribution platform has already been completed in 55 properties across 11 countries in EMEA. It will be progressively rolled out globally across the group's portfolio by the end of the five-year operating plan in 2021.
Importantly, with the launch of Radisson Meetings, the company automatically offsets the carbon footprint of every meeting or event taking place at its hotels worldwide, at no cost to attendees or organizers. To do this, it has teamed up with FirstClimate, one of the largest carbon offsetting organizations in the world.
For each meeting, the carbon footprint is calculated and then offset through First Climate by supporting projects that combat climate change and have a positive sustainable development contribution in Peru, Kenya, and India or invest in wind energy in Turkey and the USA. All selected projects are Gold Standard or Verified Carbon Standard certified. Radisson Meetings focus on ongoing efforts to minimize food waste and eliminate single-use plastics.
Last year, as part of its plan, the company also announced that it would be launching a unified technology platform, dubbed Emma. Developed in partnership with several leading technology companies, Emma would provide end-to-end capabilities with the goal of improving operational efficiencies and increasing revenue growth in addition to enhancing guest services.
Now Emma is gearing up to make her big debut on the global hospitality stage. Scheduled to roll out next month, the technology will encompass such core hotel functions as reservations, property management, revenue management, guest loyalty, sales, meetings and events, food and beverage, business intelligence, analytics and performance reporting. The technology is being billed as an all-in-one PMS that can handle property management, a central reservation system and loyalty platform.
According to a company spokesperson, Emma will provide on-property access to better data on guest preferences, providing a 360-degree view of guests relationships at an individual level. Profile information regarding past stays and purchases will enable properties to create a more relevant and personalized guest experience. There will also reportedly be more options for loyalty members to redeem points for products and services during their stay.
Emma is expected to be fully deployed by the end of next year, will include fully-integrated customer relationship management capabilities to manage accounts, guests and marketing campaigns. Emma will provide more transparency into the group sales process and enable meeting planners to book space and catering directly online. It will also centralize billing for corporate clients.