Radisson Hotel Group, known until last year as Carlson Rezidor Hotel Group, this week launched its new multi-brand and mobile-first global website, RadissonHotels.com. The website also serves as the unique platform for Radisson Rewards members. Complementing the revamped site will be the Radisson Hotels App, available by the end of this month.
The launch of the new website and app are part of the company's five-year strategic plan, announced last year, which includes a strong digital transformation component, including investments into new platforms and technology.
RadissonHotels.com integrates the previous single-brand websites, allowing for one comprehensive and user-friendly platform. It showcases every property from across Radisson Hotel Group's seven brands: Radisson Collection, Radisson Blu, Radisson, Radisson RED, Park Plaza, Park Inn by Radisson and Country Inn & Suites by Radisson as well as the art'otel brand managed by our strategic partner PPHE Hotel Group.
Travelers can explore the group's entire portfolio of more than 1,100 hotels worldwide and to easily book a stay. For both new and existing Radisson Rewards members, RadissonHotels.com and the Radisson Hotels App are designed to deliver a personalized digital experience. The website and the app will be the guest-facing main hubs for earning, viewing and redeeming points as well as for tracking and redeeming Radisson Rewards.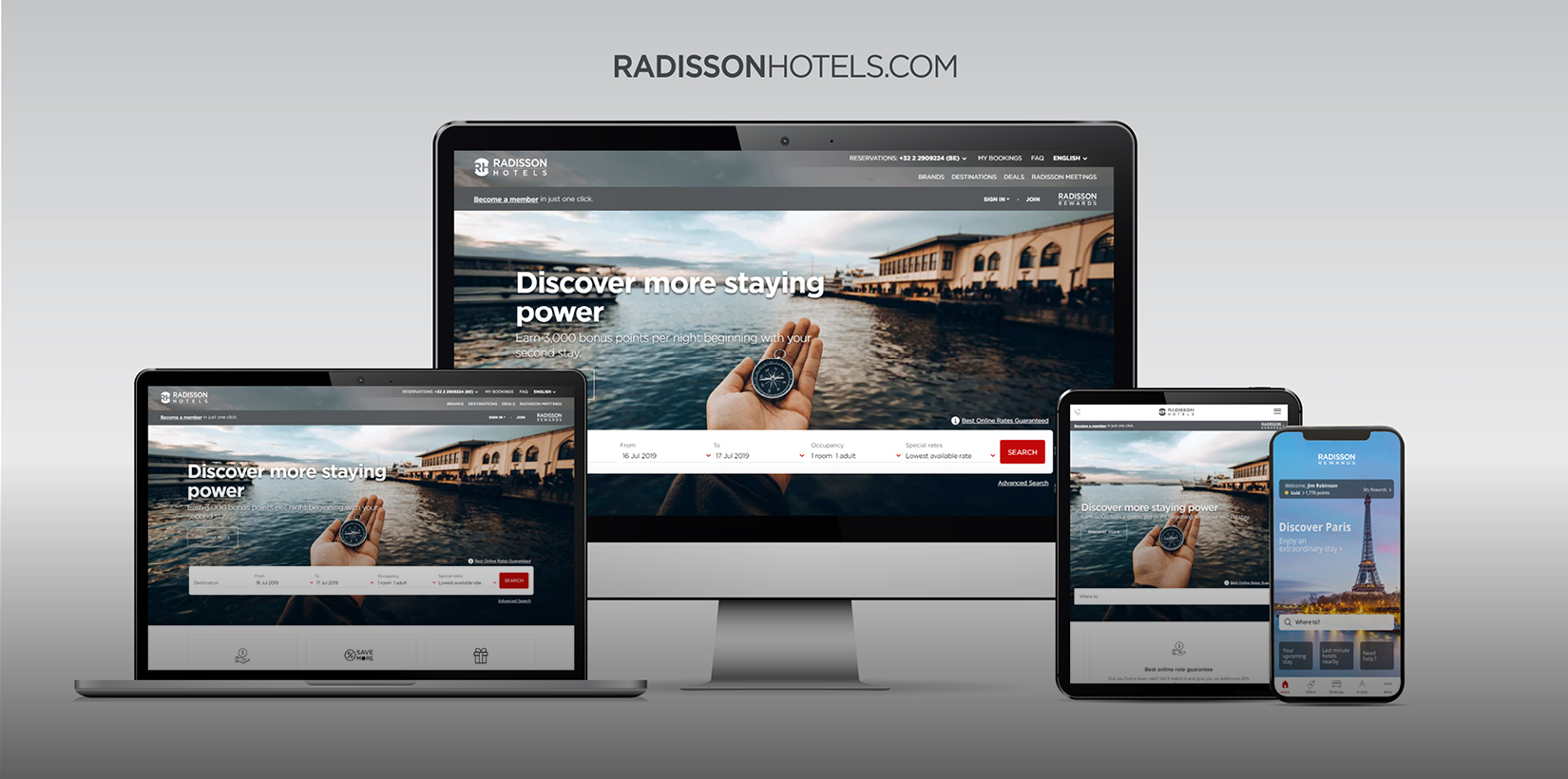 The RadissonHotels.com website is the focal point of the group's new multi-brand approach to hospitality under the Radisson Hotels umbrella. According to the company, the full website will initially be available in English, Arabic, Dutch, French, German, Italian, Norwegian, Polish, Portuguese, Russian, Simplified Chinese, Spanish and Swedish. Additional language support will be brought online progressively.
The new booking experience encourages visitors to join the Radisson Rewards loyalty program and benefit from Member Only Rates, giving them the opportunity to save up to 10% on their upcoming stays. By booking with a special rate, members are guaranteed to get the best online rate. At the same time, Radisson is guaranteed to get an opportunity to drive more direct bookings and even wrestle some control from the OTAs.
Among the features, the app includes click-to-call functionality allows users to easily get in touch with the central reservation teams. It also features a credit card scanner, providing a convenient and secure way to complete a booking. Guests can browse through multiple offers and deals using different filters and search criteria. A push notification service has also been included for new special offers. The native app has been developed for Android and iOS devices, and will be available globally on Google Play and App Store.
The launch of RadissonHotels.com and the Radisson Hotels App are the latest milestones in a new digital era for Radisson Hotel Group, and key elements of its global five-year operating plan. In May, the company announced the launch of its meetings and events technology platform, called Radisson Meetings. As of last month, implementation of the state-of-the-art IT infrastructure and distribution platform had been completed in 55 properties across 11 countries in EMEA. It will be progressively rolled out globally across the group's portfolio by the end of the five-year operating plan in 2021.
With the launch of Radisson Meetings, the company automatically offsets the carbon footprint of every meeting or event taking place at its hotels worldwide, at no cost to attendees or organizers. To do this, it has teamed up with FirstClimate, one of the largest carbon offsetting organizations in the world.
Last year, as part of its five-year strategic plan, the company also announced that it would be launching a unified technology platform, dubbed Emma. Developed in partnership with several leading technology companies, Emma would provide end-to-end capabilities with the goal of improving operational efficiencies and increasing revenue growth in addition to enhancing guest services. The technology is being billed as an all-in-one PMS that can handle property management, a central reservation system and loyalty platform, able to provide on-property access to better data on guest preferences, providing a 360-degree view of guests relationships at an individual level. Profile information regarding past stays and purchases will enable properties to create a more relevant and personalized guest experience.