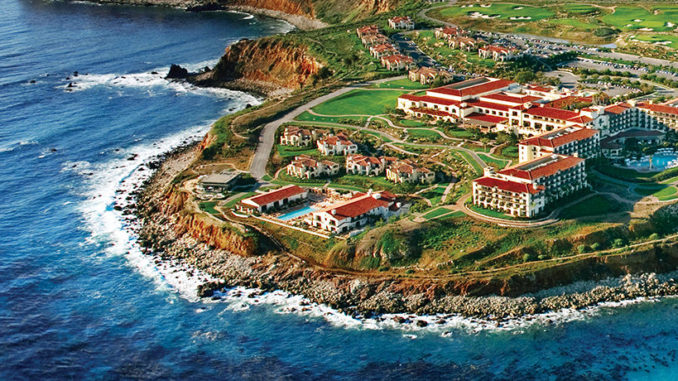 Terranea, an oceanfront luxury resort on the Los Angeles coast, is reportedly the first and only independent hotel signatory to the American Hotel & Lodging Association's 5-Star Promise initiative. Launched in the Fall of 2018, the 5-Star Promise commits hotel management companies to developing enhanced policies, conducting training programs, and using external resources to help prevent and address sexual harassment, assault, and employee safety.
Technology is also a key component. The initiative also includes a pledge to implement advanced Employee Safety Devices (ESDs) by the end of 2020.
Terranea's Personal Protection Alarm (PPA) System, developed in partnership with Kinetic Global, consists of a wearable button that, when pressed three times, activates an electronic alarm that sends information on the employee's location to the Security Control Room as well as the iPhones held by the Safety & Security Team.
The movements of the employee are updated in real time on all devices while the system simultaneously tracks the response and movements of those personnel answering the alert. The PPA tool uses the most advanced technology on the market. Terranea's installation of the system is the most extensive to date in California.
"We are committed to the protection and security of our guests and associates and believe periodic evaluations such as these reinforce our goal to be safety-centric and a pacesetter in the area of workplace security," said Terri A. Haack, president of Terranea, in a company statement. "Care and concern for associates, guests, and the environment have always been central to our core values of sustainable service excellence. These values have translated into our exceptional safety record and retention rate, a high percentage of return visitors to the resort, and a thriving ecosystem on the Palos Verdes Peninsula a decade after our opening."
Over the last year, Terranea conducted a comprehensive assessment of emerging PPA technologies in an effort to further enhance associate safety. This comparative analysis examined competing options, with an emphasis on finding the tool best-suited to an expansive coastal resort like Terranea.  The next-generation PPA system became operational at Terranea this week, more than one year ahead of the 5-Star Promise schedule.
More than 25 hotel brands, representing more than 18,000 properties, pledged to to make hotel employee safety a priority by providing hotel employees across the U.S. with employee safety devices playing an instrumental role in the groundbreaking initiative. The program requires that participating hotels deploy new standards to help enhance the safety and security of hotel workers, including the implementation of electronic safety buttons, by the end of next year. The program has also served to shine a light on the need for government organizations to put legislative measures in place.
Related articles:
Solution Providers Shift Into High Gear to Meet Hotel Demand for Employee Safety Panic Buttons
Hoteliers: Are You Loud Or Silent In The Panic Button Debate?