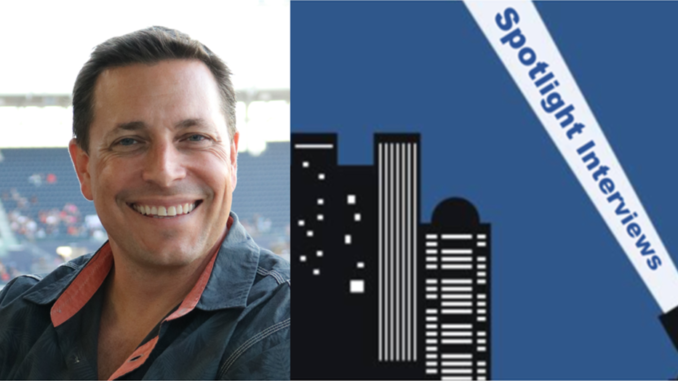 RMS is a global hospitality software company with North American headquarters in San Diego. As a leading provider of reservation and property management systems for more than 35 years, RMS has helped thousands of properties streamline operations to save time and money, increase bookings and revenue, and improve the guest experience. The President of RMS North America, Todd Sabo, is responsible for leading the company's strategic vision in the Americas, including deployment of its cloud-based property management software, customer success, and growing market share. He recently shared with us his views on what sets the company apart as well as his perspective on technology-enabled business improvement in the hospitality industry. He also told us a bit about his own career trajectory. "I am a technology geek with a software coding education and Silicon Valley career experience in hardware, software, and web services in multiple technology industries," he said. "I was brought in to RMS five and a half years ago to lay the foundation for the North American region and scale the company in our largest potential market."
For starters, let's talk about the new RMS Prime solution, which just launched this month. What unmet need in the marketplace does this solution address? How does it work, what are the benefits, and who are your target customers?
RMS Prime has all of the power of RMS' existing property management software in a cost-effective, simplified solution, which minimizes the hassle factor of converting your PMS to RMS Prime. RMS Prime is directly targeted to self-service, limited-service, and boutique hotels that will be able to take advantage of our innovative technology to simplify day-to-day operations, increase bookings and revenue, and improve the guest experience. RMS Prime provides a streamlined and accelerated onboarding and training process to help properties transition seamlessly from other property management systems to RMS. RMS Prime also offers a free annual rate evaluation and loading service to ensure clients are optimizing revenue and spending less time and hassle setting up rates themselves.
Speaking of customers, congrats on some of your big client wins this year. Among them, as we reported, is The Ascott Limited, which ranks as one of the biggest lodging owner-operators in the world, with more than 58,000 operating units. Can you talk a bit about that client relationship? How did it come about? Where are you in terms of the implementation process?
RMS Cloud was one of 30 cloud-based PMS vendors selected to participate in The Ascott Limited selection process. This was the result of an extensive search by Ascott of around 100 PMS vendors worldwide and included spending two full days with RMS going through a detailed software demonstration prior to RMS being shortlisted.
Ascott had extensive functional and technical specifications that needed to be met, and the company wanted a fully cloud-based solution that would support its ambitious growth plans for the future. Ascott was particularly impressed with the extent of the options available in RMS that closely matched Ascott's specifications, with a key feature being RMS' enterprise architecture allowing all of Ascott's properties, regardless of location or brand, to exist in a single enterprise database. RMS' enterprise technology removes a significant amount of duplication and allows for quick and easy deployment with all properties able to access shared guest, company, and agent records. Other key criteria that led to RMS' selection included built-in channel management technology, open API capabilities, franchise functionality, and clear methodologies for a quick rollout.
The RFP process was extremely comprehensive, taking almost three years from RMS' initial submission, through multiple presentations to various internal Ascott user groups and then a multi-country pilot program before Ascott confirmed RMS to their board. I'm excited to report we completed converting 100 properties to RMS software in only six months, and we'll be releasing more information about that implementation very soon.
There are obviously a lot of solution providers in the PMS space, including quite a few heavy hitters. What sets RMS apart? What do you view as the company's competitive strengths? Is your open API architecture design one of the biggest selling points? The integration of end-to-end capabilities, including dynamic pricing recommendations?
RMS is built on 35 years of technology innovation for the hospitality industry, with powerful business engine rules and an extensive database. RMS had the foresight ten years ago to port all of its features and functionality to the cloud, establishing the company as a leader in fully cloud-based PMS solutions.
Out of the box, RMS' PMS is the most flexible and highly configurable software on the market, designed to meet the needs of any hotel regardless of size or complexity.
Several factors set RMS apart from other PMS providers. The RMS property management system is the only PMS to have received FedRAMP certification, indicating the solution has undergone a thorough security and compliance review by the Federal Risk and Authorization Management Program and is approved for government use. This certification is a testament to how seriously RMS takes software security.
RMS Pro, the advanced version of RMS' PMS software, is an all-in-one hotel management solution that is one of the few systems supporting  seamless multi-property enterprise management. With features including PMS, CRS, dynamic pricing, channel management, internet booking engine, F&B POS, housekeeping, guest portal, email marketing, enterprise reporting, as well as the ability to integrate with multiple partner technologies, RMS Pro is a powerful tool for complete hospitality management.
RMS also aims to make day-to-day operations easier for hoteliers with our signature "set it and forget it" functionality. Features like dynamic pricing, triggered correspondence, and automated reporting take the hassle out of property management and give hoteliers more time to focus on the guest experience.
How is the world of property management technologies evolving, in general, and how is RMS playing a role in this evolution?
Property management technology is evolving to focus on frictionless guest experiences and interaction on guests' own terms. RMS software helps hotels give guests options to personalize and take control of their experience with online check-in and check-out, communication with the property through a guest portal, and access to rooms using mobile keys.
PMS providers realize making guest data easily accessible and understandable is the most powerful service they can offer. RMS is exploring business intelligence solutions to give hoteliers the information they need about their guests to make informed business decisions.
How has the hospitality industry changed and evolved, especially in terms of hotel technology and the solution provider landscape, since you began your career?
The change from on-premise solutions to cloud-based solutions is actively accelerating, but the hotel industry is one of the slowest to adapt to new technologies and is still behind other industries in terms of innovation. Among solution providers, there is a focus on the guest experience and guest data, with many more technologies geared toward catering to guest needs and convenience, such as online bookings, mobile keys, and guest communications.
What, in your view, are the biggest obstacles and challenges hotel operators are likely to face over the next few years, especially in terms of technology?
With the advent of GDPR and stricter privacy laws, as well as the number of recent large-scale data breaches, the security of guest data is paramount. One of the biggest challenges hotel operators are facing is upgrading legacy systems to newer, cloud-based solutions and ensuring that all of the integrations with other hotel subsystems are working correctly.
Do you think hotel operators are prepared for the challenges that lie ahead? If not, what do they need to do to better prepare themselves – and, hopefully, ensure their ongoing success?
In most cases, hotel operators are not prepared. Technology is an afterthought in many hotels; physical amenities usually come first in the value chain for hotel operators. There is not enough emphasis on technology systems that drive hotel operations and guest satisfaction, and utilizing guest data to make informed business decisions will be an ongoing challenge. Hoteliers need to understand what they're looking for and take a vested interest in how technology can drive value for their business; they need to plan on investing in technology the way they do physical upgrades to their property.
What, in your view, are the biggest opportunities that are now available to hotel operators due to recent advances in technology? How can they best take advantage of these opportunities?
The biggest opportunity available to hotel operators right now is guest data and understanding what to do with it to increase bookings, ADR, and guest satisfaction.
In your experience, are most hotel operators making the right decisions in terms of their technology infrastructure? Are their properties generally achieving their potential in terms of revenue performance as well as the quality of the guest experience or is there a lot of room for improvement?
Hoteliers are starting to realize the benefits of a cloud-based solution and are making the switch to more innovative technologies. The properties that understand technology upgrades are necessary to remain competitive, and that take advantage of these new technologies are the ones who will achieve their potential in terms of revenue performance and guest satisfaction.
As far as technology is concerned, where should hotel operators be focusing their time, energy and IT resources? What technology-enabled business initiative(s) are likely to provide the biggest payoffs?
WiFi seems to be the most important technology asset for many hoteliers, but this is now an expected service. Hotel operators need to be focusing their time, energy, and IT resources on how technology can improve the guest experience. Mobile keys, loyalty programs, and seamless guest communications (text, email, guest portal messaging) are examples of technologies that will provide big payoffs in terms of guest satisfaction. 
Any other major achievements over the past year we neglected to mention? Anything else new and noteworthy in terms of strategic partnerships, customer wins, expansion, etc.?
This past year, RMS achieved FedRAMP certification and contracts with the U.S. Department of Defense and the Marine Corps, and technology partnerships with The Ascott Limited and Cheval Collection to use RMS property management systems exclusively.
What will be the primary focus areas for RMS over the next year, particularly in terms of enhanced platform capabilities and/or entirely new solutions?
Business intelligence reporting is one of the areas RMS will be focusing on to provide mission-critical data to hoteliers to drive revenue and guest satisfaction.