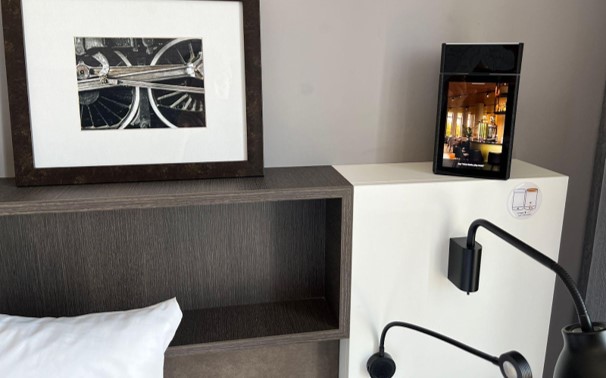 WooHoo, the leading provider of in-room AI assistants for hospitality, is collaborating with GoTickin to enable hotel guests to request for amenities like toiletries, housekeeping and maintenance related requests directly on the WooHoo® X-Series In-Room Voice AI Assistants. Hotel guests can now explore various housekeeping options available and request them directly from the convenience of their rooms through multi-lingual touch and voice commands. The partnership was signed in Amsterdam, Netherlands on 1st August, 2023
WooHoo® is a Silicon Valley-based solution provider and the developer of WooHoo® X-Series, an award-winning enterprise-grade voice AI assistant speaker for the luxury hospitality industry. The WooHoo® Voice AI Assistant speakers (powered by Sound by JBL) combine a phone, alarm clock, speakers, tablets and voice assistant into an all-in-one device and brings the convenience of contactless in-room ordering and automation using just voice commands.
With a completely customizable interface, including preferred wake words, hotels can now personalize their branding and engagement. Guests can also use the multi-lingual touch commands to make requests, phone calls and check F&B menu digitally directly on the WooHoo® device. It is integrated with more than 60+ hospitality technology solutions, including property management systems, in-room automation, housekeeping, point of sales systems, and PBX. 
GoTickin is a Netherlands based facility software solution for Housekeeping, Maintenance, Quality control and Reception teams. With all the features working together, it benefits hotels communication, productivity and overall guest and users' satisfaction. With a wide range of integration of PMS suppliers, GoTickin is able to automize the operation and give a hands-on tool with all the information needed to run the operation more efficient.
"We are excited to be collaborating with Silicon Valley company like WooHoo® to make it easier for hotel guests to get the service they need, Guests staying in WooHoo® deployed hotels can now conveniently explore and request various amenities and maintenance services available in Hotels" said Jeroen Klijnsma, Product Manager of GoTickin. "We want the guests to enjoy their stay without the hassle of waiting for front office to attend their calls and take requests while they are staying in the Hotel. With this partnership, guests can now simply use their voice to request service, which is more convenient and efficient." Guests can simply say "Hey WooHoo!, I need housekeeping" or "Hey WooHoo!, I need more towels" to request service.
"We are excited to collaborate with GoTickin, the leading provider of facility software solution for Hospitality," said Sharan Bhinder, Global Customer Success Officer at WooHoo®. "With a huge increase in tourists now travelling post-COVID, Hotels are facing a new challenge with massive shortage of skilled staff. The wait times for hotel staff to attend and respond to calls have increased significantly. With this full integration with GoTickin, Guests can now use WooHoo® devices to place their amenities requests quickly and conveniently without the need to call or wait and GoTickin software directs their requests to housekeeping staff, who then deliver their requests promptly. This will make it easier and more convenient for guests to get the service they need, while also freeing up hotel staff to focus on other tasks."
Does your company have news it would like to share with our readers? If so, we invite you to review our editorial guidelines and submit your press release for publishing consideration.