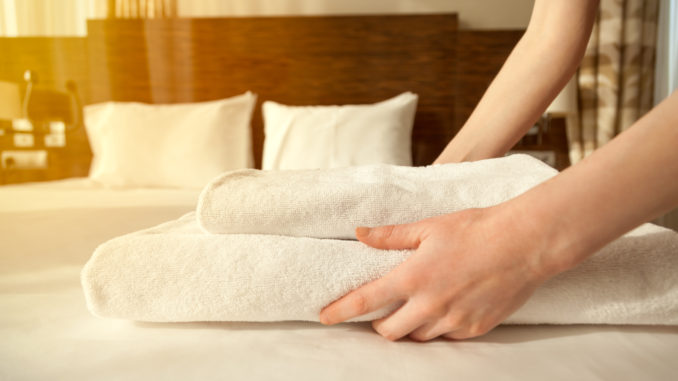 As every hotelier is acutely aware, negative reviews about guest room cleanliness can result in serious reputational — and financial — harm. Cleanliness is the most important of all variables influencing the quality of the guest experience. While such factors as price, location, service and amenities tend to carry a lot weight, cleanliness invariably ranks as the most influential factor of all.
In fact, a recent survey found that as many as 4 out of 5 guest would abandon a hotel booking due to an unclean guest room. Another recent survey found that 80 percent of guests would leave a hotel if their guest room failed to live up to their own cleanliness standards. Poorly cleaned guest rooms lead to passionate outcries of dismay on TripAdvisor, Yelp, Google Reviews and, often, on the hotel's own website.
"People underestimate the importance of housekeeping," wrote a respondent in a recent Starfleet Research survey. "The truth is that housekeeping has a huge impact on guest satisfaction. Everyone cares about the physical aspects of the property, including its location. The front desk experience is important. But the next biggest factor almost always has to do with housekeeping. Is the room ready? Is it clean?"
For that reason, a housekeeping management solution deserves a lot of serious attention. Incidentally, cleanliness is not the only aspect of housekeeping that can have a profound impact on the quality of the guest experience. Housekeeping efficiency also factors into the equation. After all, long check-in lines at the front desk and waiting periods are often caused by a backlog of rooms not yet prepared for arriving guests.
The good news is that next-generation technology solutions can help ensure that guest rooms are cleaned effectively, and in a timely manner. These solutions can also ensure that rooms are cleaned based on the wants and needs (e.g., hypoallergenic pillows, non-fragrant soap) — and even the value — of guests.

Several technology solution providers offer function-specific platforms that enable hoteliers to maintain a high level of housekeeping performance across multiple properties.
One solution is HotSOS Housekeeping by Amadeus, which claims to save hotels an average of $166 per guestroom by prioritizing the process of guestroom cleaning, digitizing the guest room inspection process and mobilizing the management of the department virtually.
KNOW Housekeeping from Knowcross is designed to "streamline daily housekeeping activities and reap double digit improvements in staff productivity, higher guest satisfaction and a massive reduction in the hotel's carbon footprint."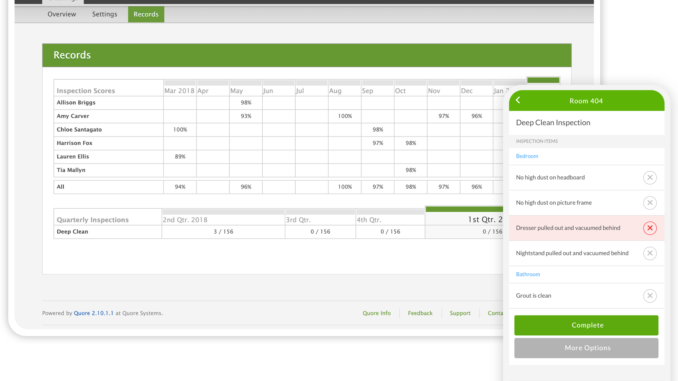 Another leading solution is Quore's Cleaning Plus, with a marketing message that states: Smarter housekeeping means guest-ready rooms. "Quore lets you clean faster, easier and all around better," touts the company on its website. More than 65,000 hoteliers currently use Quore, it says, not only for housekeeping but also for managing a variety of other guest-facing service tasks, including communications and maintenance.
All of these cloud-based service-optimization platforms are designed to handle the end-to-end operations of assigning rooms to housekeeping staff and assuring that cleaning is done in an efficient and effective manner. Flexibility is a requirement, given the number of day-to-day logistical challenges and variables involved in housekeeping management.
Some rooms need to be cleaned before other rooms. Different  rooms have different housekeeping requirements. One can make the case that even different guests should have different housekeeping requirements.
Should a guest room serviced for a family of four on vacation be cleaned differently than a room for a business traveler in town for a meeting?
Some next-generation capabilities can be used to assign housekeeping services based on guest profiles, available staff and amount of work to calculate the most effective way to assign staff. Some sophisticated solutions can automatically balance room attendant assignments based on stayovers versus check-outs, room type considerations, the number of registered guests, expected arrival time of guests with pre-assigned rooms due to their VIP status or online advance check-in of arriving guests and multiple other factors, even taking room-to-room travel time into account.
The fact that the housekeeping function touches on one of the other biggest areas of opportunity for improvement in guest services speaks to the need to optimize this function, particularly for large, multi-property hotels. With the advent of today's next-generation housekeeping solutions, optimizing this function can be readily done, to the relief of hotel operators and also hotel guests, who would otherwise be waiting in check-in lines for their rooms to be ready.
Are you an industry thought leader with a point of view on hotel technology that you would like to share with our readers? If so, we invite you to review our editorial guidelines and submit your article for publishing consideration.