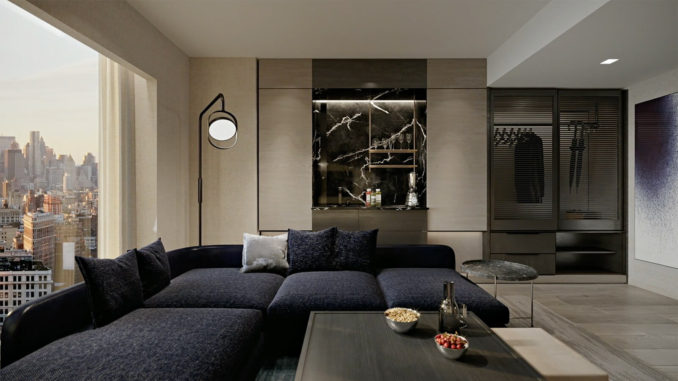 "Where the science of fitness meets the art of travel."
Such is the tagline for Equinox Hotels, which last week announced the grand opening, in June, of its first hotel property with the launch of its online booking platform for room reservations. More than five years in the making, the five-star luxury hotel will occupy fourteen floors of a magnificent 1,000-foot-tall tower in the new $25 billion Hudson Yards residential, retail, and commercial development in New York City.
The hotel's 212 guest rooms, which come with soundproofed walls and blackout shades, are designed to meet the highest guest expectations, including undisturbed REM ("a quiet, calming chamber for truly restorative rest," reads the new website). A good night's sleep doesn't come cheap; room rates start at more than $700 per night.
Of course, the five-star hotel also comes with a host of attractions and amenities, not the least of which is the the largest-ever-built 60,000-square foot Equinox Fitness Club and Spa. A Los Angeles location, announced in 2017 and scheduled to open sometime next year, will consist of a 20-story hotel tower with 305 guest rooms.
According Equinox, the guest rooms will also tout "integrated technology for effortless personalization." This includes an in-room digital guide "supported by yoga accessories and massage essentials."
As the exercise and fitness chain giant makes its foray into the luxury hotel business, it only stands to reason that next-generation technology will play a big role in enhancing the quality of the guest experience. Given the upscale, technology-savvy and health-driven demographic to which the brand is catering, technology-enabled features and capabilities that streamline operations and drive personalization are bound to be ubiquitous throughout the property.
Founded in 1991, Equinox as a modern lifestyle brand has a long history of utilizing the latest in guest-facing technologies. In embracing the virtues of fitness and high performance, the company has often integrated technology in the service of improving guest health and the overall guest experience.
Innovations at its fitness clubs have ranged from technology-enabled spin classes and other data-rich devices to in-locker USB chargers. The treadmills are fitted with O2 vaporizers. A chatbot embedded within the Equinox Fitness Clubs mobile app offers workout reminders. Members can use the app to book group fitness, schedule personal training and access other club amenities on-demand.
More recently, Equinox launched an online community that might be best described as a social network for luxury fitness buffs.
For Equinox, all of these touchpoints serve as rich sources of member data. The company is now augmenting this ever-growing mountain of data with more data, captured from geolocating beacons that are currently being installed in the chain's fitness facilities.
Leveraging this vast repository of data, Equinox can know an individual member's wants, needs, preferences and behaviors as they relate to exercise and fitness and much more, as a granular level. It can guide guests in directions tailored to continuous fitness performance improvement on an individual basis. It can also serve up personalized messages and other relevant communications, and engage with members in any number of ways. The data generated from the digital programming also provides the company with a plethora of valuable consumer insights.
"Equinox architected the fitness as a lifestyle movement and Equinox Hotels is the complete manifestation of our brand promise," declares the company on its new website. "This is high-performance living. This is a place where compromise simply doesn't exist." With the help of next-generation technology, Equinox may well be able to deliver on that brand promise.