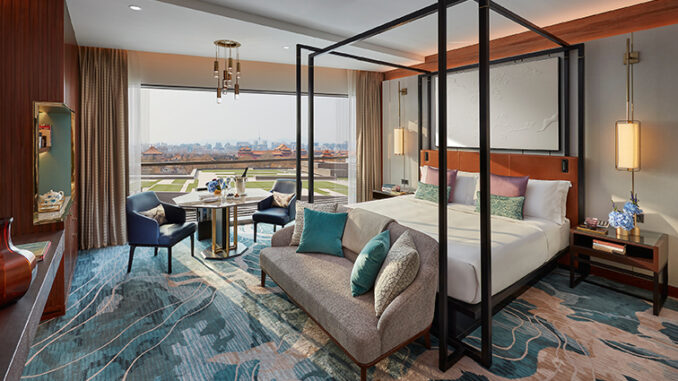 IRIS, the leading provider of digital F&B and guest experience platforms, is set to increase its market share across China's growing hospitality market. Today it announces a new partnership with Asia-based hospitality technology reseller MYM, utilising IRIS's Chinese Azure cloud solution.
IRIS currently serves several Mandarin Oriental, Four Seasons and Marriott properties, among others, within China. A key part of IRIS's plan is to enhance its local service offering and the capabilities of its solution for both current and new clients across China.
The report from Mordor Intelligence – China Tourism and Hotel Industry confirmed IRIS's own insight that the hotel industry in China is currently experiencing a period of growth with hotel groups planning developments and renovations in the coming years. Enhancing the service and speed of delivery and establishing a partnership with an experienced partner equipped with local expertise and market insight is an important foundation for building this ambition in a hospitality market that is set for expansion.
Johan Ohlin, CTO at IRIS, comments: "Since we first launched in China it has been a key focus market for us as a business. Our investment in local hosting and the new partnership with MYM is the beginning of an exciting new chapter for us.
In addition to the local presence, language support and the scope of their operations, they also have a great track record and client base so are a strong commercial fit to help us promote our solutions locally.
The hospitality industry in China is growing and as operators work to deliver exceptional guest services, for many that means a digital-first solution, in terms of ordering and payment capabilities. Our platform has been built and developed to benefit both the operator and the guest, and we look forward to working with our hoteliers across the region to further support them in realising their own ambitions for revenue growth."
Ricky Huang, CEO at MYM added: "We pride ourselves on the expertise we have throughout the hospitality technology sector and are delighted to be working with IRIS to build a long-lasting partnership that will support both our hotel clients and the wider industry.
We look forward to enhancing our service offering and are confident hotels and guests alike will benefit from the knowledge and support that both companies are recognised for."
Sunny Zhang, VP of Data Governance and Analytics at Mandarin Oriental also commented: "We value our partnership with IRIS and are delighted with their continued investment in China. IRIS's digital in-room solutions not only offer our guests excellent service but also provide an additional revenue-generating channel for our hotels.
The partnership between IRIS and MYM in China has resulted in an enhanced solution that delivers improved local operational support. We look forward to collaborating with both parties to facilitate more business opportunities with the IRIS solution."
Does your company have news it would like to share with our readers? If so, we invite you to review our editorial guidelines and submit your press release for publishing consideration.