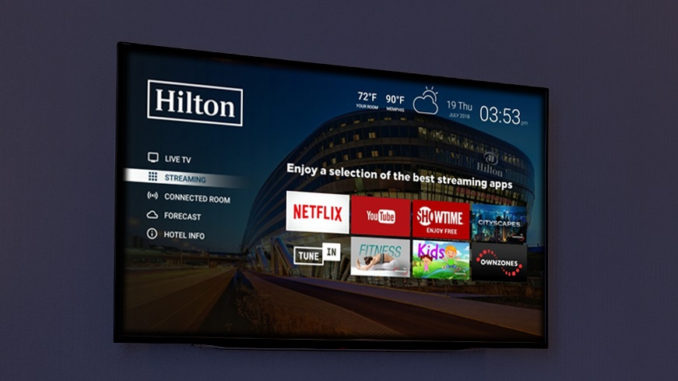 Two years ago, Hilton unveiled its Connected Room concept. The hotel brand billed it as a first-of-its-kind, high-tech guest room that enables guests to personalize and control every aspect of their stay from one central point – their mobile device. Last year, the company began rolling out a somewhat less feature rich version of the Connected Room across the United States.
According to a company spokesperson, Hilton currently has more than 1,800 Connected Rooms, and, according to a company spokesperson, plans to roll out the technology to "tens of thousands of rooms in hundreds more hotels across the U.S. this year." Needless to say, 1,800 rooms is a small fraction of the hotel chain's 900,000-room global presence. Plans are for the Connected Room concept to make its initial foray into the first non-U.S. hotel locations this year.
With Connected Room-enabled properties, the idea is to allow guests to be able to use the Hilton Honors app to manage most things they would traditionally do manually in a room, from controlling the temperature and lighting to the TV and window coverings. Hilton noted that guests will also be able to personalize their room with technology that loads the most popular streaming media and other accounts to in-room TVs.
Now, through a partnership with Netflix, Hilton is delivering on that part of the promise, further enhancing the Connected Room technology as well as the quality of the guest experience.
The collaboration with Netflix, which was announced this week, enables guests staying in Connected Rooms to seamlessly access their Netflix account by logging in either by entering their credentials with the remote control or the keyboard on the Hilton Honors app. Guests without a Netflix account will be able to sign up on the spot in their room and start watching immediately, while current Netflix members can start watching exactly where they left off before checking in.
Guests who prefer to use the Hilton Honors app can download it onto their mobile device if they haven't already, then add Netflix and other streaming media providers and TV channels to their list of "favorites" for easy access. Guests who prefer the TV remote can press the remote's "Netflix" button, which powers on the TV and goes directly to the Netflix login screen.
The Connected Room platform is designed to ensure that a guest's login information stays secure and clears automatically upon checkout, unless they choose to clear it sooner through the TV.
Hilton is not the only hotel to offer Netflix service. In-room streaming of Netflix programming is also available to guests in a limited number of locations under deals with several other major hotel brands, including Marriott International Hotels, InterContinental Hotels, Starwood Hotels, Four Seasons Hotels, Best Western Hotels, Hyatt Hotels and Wyndham Hotels.
The Hilton vision for the Connected Room is ambitious. As  concept continues to evolve, including through additional technology and content partnerships, it will come to support a range of connected devices, engagements and experiences. Guests will able to use voice commands to control their room or access their content, and to upload their own artwork and photos to automatically display in their room.
Guests will also be able to set various preferences in their Hilton Honors account profile to further customize their in-room experience to their individual preferences. In terms of bringing that vision to fruition, the Netflix partnership would seem to be a step in the right direction.