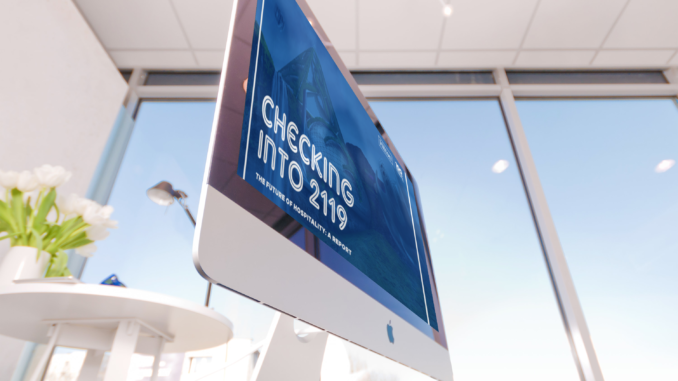 In celebration of its centenary, Hilton, which currently has a portfolio of 5,757 properties and 923,110 rooms in 113 countries, launched a project to anticipate trends and imagine what innovations will await guests who are checking into one of its hotels a hundred years in the future. The result is a report, released this month, entitled Checking Into 2119.
Hilton partnered with futurist Gerd Leonhard to develop its vision of the hotel of 2119, from technology and design, to food and drink, sustainability and wellness. The report explores multiple facets, from the guest experience to the role of hotel staff and the relationship its hotels will continue to have with the communities in which they operate.
Naturally, some parts of the vision are more plausible than other parts. Among the bold predictions:
Inside the hotel, guests will only see what you want to see. Every area will instantly morph into a guest's perfect, hyper-personalized space. Individual data insights, gleaned from embedded chip technology, will beam to the hotel, so the space will be ready the moment a guest walks in.
The Lobby will conjure up anything from a tranquil spa to a buzzy bar, giving every guest the perfect, personal welcome.
With check-in taken care of automatically, hotel staff will take on a new role as Hosts, each with a number of guests designated to them. Hosts will focus on greeting each of their guests with their preferred, personalized welcome.
Technology will allow for automatic evolution, meaning every fitting and furnishing will continuously update to respond to an individual's realtime needs and design preferences.
Lighting and temperatures will constantly update to meet a guest's needs, sensing their desire to cool down or warm up through the same embedded chip technology. The bed will morph to support bad backs, healing muscular pain and sensing the changing needs throughout the guest's sleep cycle, using intelligent sensors to ensure a fully refreshing night's sleep.
Virtual wardrobes will offer endless sustainable clothing suggestions, eliminating the need for packing suitcases and luggage transportation.
Vertical hydroponic crop-growing farms will maximize the space on a building's exterior and ensure self sufficiency, with built-in irrigation systems collecting and recycling
The food in future hotel restaurants will be highly-nutritious, protein-packed and completely sustainable.
Menus will be unnecessary. Biometric information from embedded guest chips will provide chefs with food preferences, nutritional requirements, allergies and flavour tolerances on arrival.
 The idea of digital detox will still be commonplace. Technology time-outs will be embedded into everyone's health and wellness plans, allowing us to relax and engage with others.
Super tech-savvy individuals will ensure every element of the hotel experience continues to run smoothly, appearing virtually at any hotel across the world to provide additional support whenever
needed to ensure guests are making the most of the technology available – from helping them maximize their holographic workout to ensuring their personalized room set up is exactly as they want it to be.