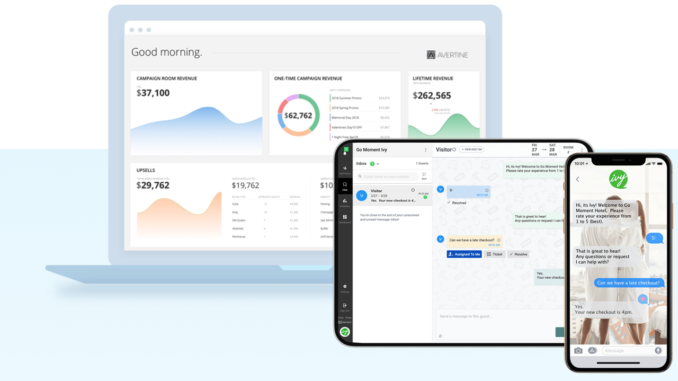 Revinate, a leader in omni-channel direct booking platforms for the hospitality industry, has acquired Go Moment, an AI driven, commerce-enabled messaging solutions provider for the hospitality industry.
The combined company will be called Revinate. Together, the companies' focus continues to be enabling hoteliers to synthesize and activate their guest data intelligence to convert direct bookings and commerce at any point during the guest journey.
Revinate's mission is to deliver hoteliers scalable direct revenue and profits from data-driven solutions that cultivate deeper relationships with guests. Customers love Revinate as they can engage with their guests throughout the guest lifecycle with automated and personalized campaigns across various channels, including email, voice, SMS and the most popular messaging platforms. Thousands of hotels currently use Revinate's direct booking platform to generate 20x or greater ROI.
50 million guests have met Go Moment's AI powered digital concierge, Ivy. Hoteliers love how Ivy automates nearly 60% of guest requests with her AI-driven, real time responses, streamlining both staffing and service delivery. Hoteliers have also seen fantastic ROI results from messaging commerce, from bookings to upgrades to amenities.

By integrating Revinate's unique direct booking platform with Go Moment's AI driven messaging and commerce capability (Ivy), Revinate will further enhance its omni-channel capabilities to engage with guests and create commerce opportunities between guests and the hotel. This combination enables the platform to maximize the lifetime value of each guest through targeted campaigns and seamless guest experience.
"This is a real game changer for our industry. The very best synthesized guest data intelligently powering the very best omni-channel guest lifecycle communications means Revinate has become the ultimate direct booking platform for hoteliers," said Marc Heyneker, the CEO of Revinate.
Founded in 2009, Revinate counts tens of thousands of the world's leading hotels as customers and has won numerous awards for its software as a service (SaaS) solution, including 2018, 2019 and 2020 Top Rated Email Marketing and CRM Product by Hotel Tech Report.
Go Moment's CEO Raj Singh will be joining the Revinate leadership team as a Chief Strategy Officer (CSO). "I am delighted to join Revinate in accelerating our hospitality industry's bright future by building the ultimate omni-channel direct booking platform. I look forward to working with Marc Heyneker and his excellent team to serve the global hotel market," said Raj.
Does your company have news it would like to share with our readers? If so, we invite you to review our editorial guidelines and submit your press release for publishing consideration.