Marriott International, the world's largest hotel company, has been a pioneer in hotel technology transformation, particularly with respect to guest-facing technologies. The company continues to lead the way in innovating the digital aspects of the guest experience with a slew of initiatives designed to surprise and delight guests and enhance the quality of the overall guest experience.
"Digital transformation is not only speeding up, but it is broadening," says Arne Sorenson, CEO of Marriott. "It's in every aspect of our business."
"We see it with our relationships with our team," he says. "We see it with our customers who want not only to stay in our hotels but want to be able to communicate with us constantly through technological tools. [We] want to have the breadth of tools across the entire digital landscape available to them through us."
These remarks come from a new interview, hosted by Microsoft, in which Sorenson notes that success in using technology to improve the guest experience means putting both the right tools and the right data infrastructure in place.
"For a long time, our customers have said, 'We think you know us but we're not sure you use what you know about us enough,'" he says. "The challenge for us is, how do we take the data that we have, make it accessible, fast, accurate and feed that data with new information that we gain, so that we can then apply these tools in a way that allows us to deliver value."
When it comes to improving the overall guest experience, Marriott focuses on both the physical and digital aspects of its business. The physical aspects, including the comfort and cleanliness of the rooms as well as the pools, spas, exercise rooms, etc., and all the in-room and other amenities that serve to enhance the guest experience, continue to demand attention.
Meanwhile, the digital aspects of the guest experience have taken on heightened importance in recent years. These aspects include everything from the process of booking a room to engaging with customer service to personalized mobile experiences.
Marriott has launched a large number of high-profile technology-enabled initiatives in this area. It has also launched a number of less-buzzworthy initiatives that have nonetheless served to enhance the quality of the guest experience. With the acquisition of Starwood Hotels and Resorts, for example, the company immediately enabled members of its loyalty programs – Marriott Rewards, The Ritz-Carlton Rewards and Starwood Preferred Guest – to link their accounts, allowing members to have their status matched across all three programs, which was no easy feat from a technology and data integration perspective.
Many other examples, including the introduction of personalized app experiences with Mobile Check-in, Mobile Requests and Mobile Key, demonstrate how the company seeks to leverage technology in new ways to connect with guests.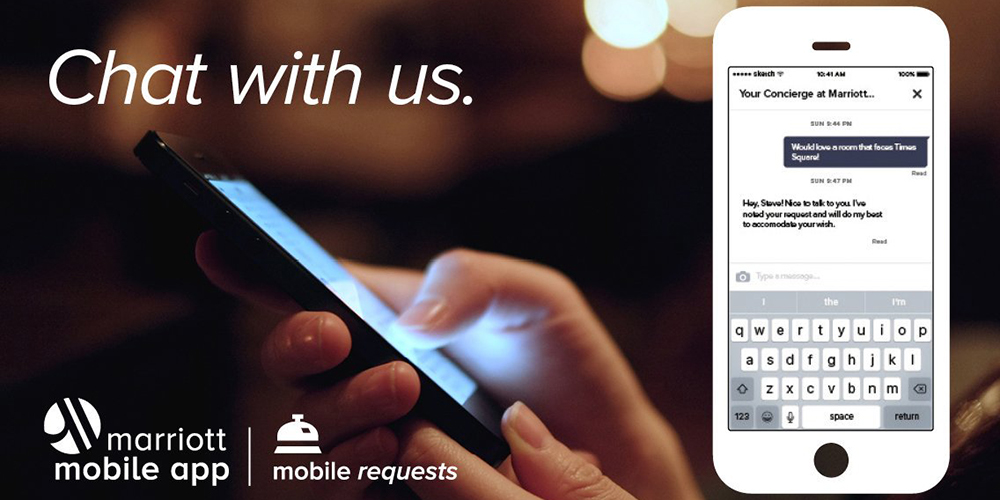 The growing popularity of text messaging prompted the company to launch the Mobile Requests feature on the Marriott Mobile app in 2015, enabling guests to chat directly with hotel associates. Within two years, more than 2.5 million requests had been received with more than half coming before guests checked in. The success of Mobile Requests inspired Marriott to expand the number of guest-facing mobile communications options, including chatbots for its Marriott Rewards members.
By the end of last year, Marriott Rewards chatbots were available on Facebook Messenger, Slack and soon, WeChat and Google Assistant. Marriott Rewards members on Facebook Messenger and Slack can research and book travel at more than 4,700 hotels and chat directly with customer engagement center associates. Of the guests using Marriott Rewards' Facebook Messenger, 44 percent received stay-related customer service such as changes to their reservation and 53 percent found assistance related to their Rewards account such as how to redeem points for stays.
The Marriott Rewards, The Ritz-Carlton Rewards and Starwood Preferred Guest were replaced in February with the launch of the Marriott Bonvoy app. The app was designed to make it even easier for people to search and book hotels across Marriott's portfolio of 6,700 participating hotels across 30 brands in 130 countries, engage in mobile check-in (with an alert sent when the room is ready), use mobile key (in select hotels) to enter the room, submit mobile requests for service and amenities, and chat with representatives before, during, and after their stay. The app also uses chatbots, enabling guests to ask questions, make simple requests, and receive instant responses.
Other examples of Marriott's guest-facing technology innovation abound. Two years ago, for example, as reported here, the company's Aloft Hotels, which currently number 110 properties in nearly 20 countries, launched the first ChatBotlr, a chatbot available via text message, giving guests an additional way to make service requests. Last summer, as reported here, Marriott signed up to be the first major hotel chain to offer Alexa for Hospitality, which is now available at select Marriott Hotels, Westin Hotels & Resorts, St. Regis Hotels & Resorts, Aloft Hotels, and Autograph Collection Hotels.
Alexa for Hospitality integrates with existing amenities and services to become guests' virtual concierge. It is designed to simplify tasks for guests like playing music, ordering towels, controlling in-room temperature or lighting, finding local restaurants and attractions, calling, and even checking out. The technology is managed by Volara, a provider of custom voice-based solutions to the hospitality industry.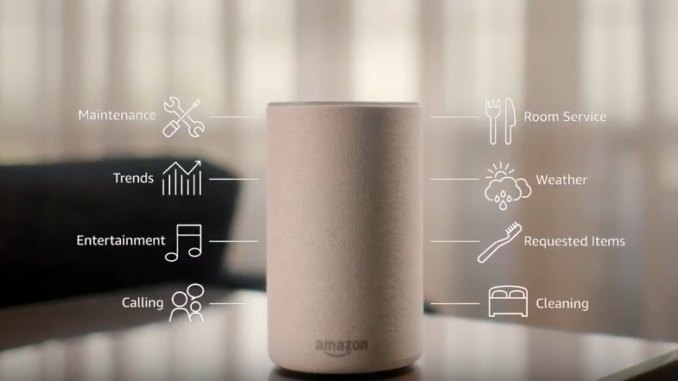 Last month, The Westin Buffalo, one of the upper-upscale properties in the Starwood collection, became one of the first hotels to deploy guest-servicing Echo devices in each of its 115 guest rooms, where guests can now connect their own Amazon accounts with their personal music playlists.
As reported here, it was also the first hotel in New York State, and one of just 20 hotels in the country at the time, in 2017, to employ a Relay robot, manufactured by California-based Savioke. The Savioke Relay, nicknamed Chip, is programmed to provide automated service to hotel guests, from bringing a cold cocktail to their room to delivering extra towels or dropping off a complimentary toothbrush and tube of toothpaste.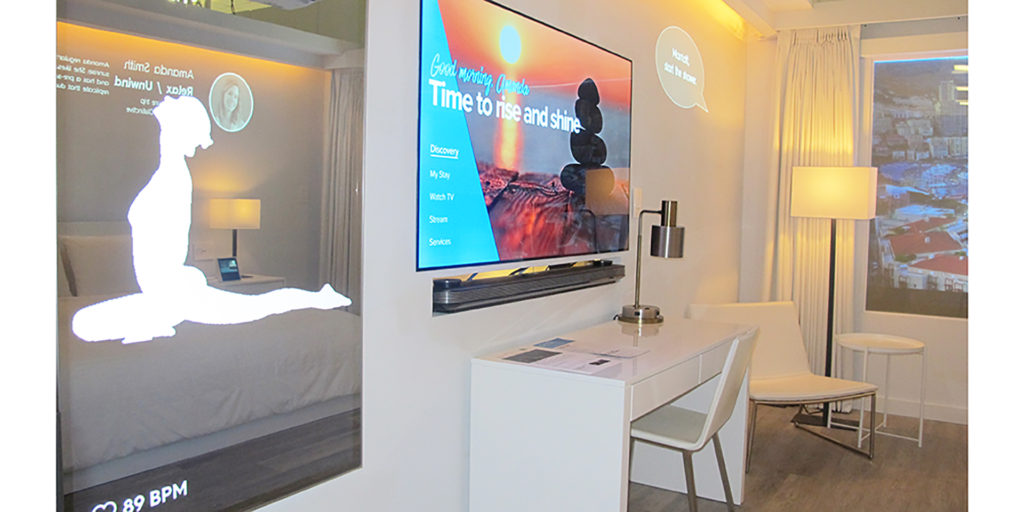 As part of its effort to bring to life the guestroom of the future, Marriott partnered with Legrand and Samsung to create a "smart room" wherein all devices respond to voice activation. The IoT Guestroom Lab explores concepts that have the potential to not only elevate the guest experience, but also to contribute to Marriott's global sustainability efforts and goals.  As the hospitality industry's "smart" hotel room, the Lab allows multiple responsive systems, devices and applications to communicate with one another to serve guests.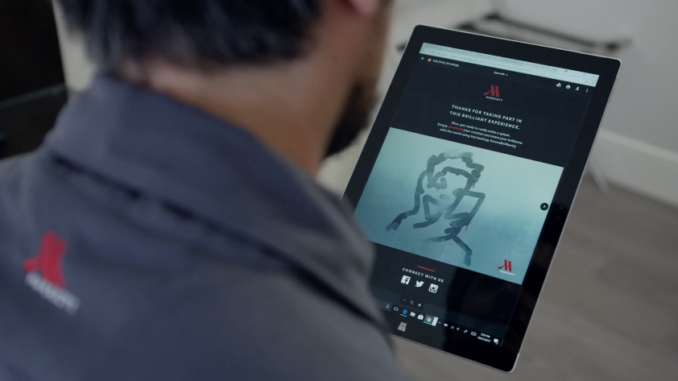 Some guest-facing innovations have been experimental in nature, and even whimsical. Among them is a technology recently piloted at Marriott Hotels Irvine, California, to help guests capture "moments of inspiration in the shower." After learning that over half of business travelers feel that their best ideas come while showering, the company decided to test a one-of-a-kind technology that allows guests to sketch their ideas on a canvas on the shower door. They can write or draw whatever comes to mind using steam. Touch-sensitive technology built into the shower door then sends the idea to the guest's email. Whether the technology is rolled out on wider basis is yet to be seen.
On the social media side, Marriott's Content Studio publishes original content across digital platforms, and M Live, the company's real-time social media command center that launched in 2015 and now has regional hubs in Asia and Europe. M Live serves as the company's real-time conversation engine with compelling content designed to engage guests. Last year, for example, M Live launched an Instagram story series, "Marriott Hotels Talks TED."

Marriott has has had its share of technology-related stumbles and setbacks, including, most notably, last year's high-profile hacking of guest usernames and passwords in the reservation database for Starwood Hotels & Resorts Worldwide, which Marriott had acquired only two years earlier. The hack involved as many as 383 million guest records, as well as more than 5 million unencrypted passport numbers and more than 9 million encrypted payment cards.
To its credit, Marriott handled the data breach issue better than most other major companies that have also fallen prey to cybercriminals, allowing it to move past the issue, at least in terms of retaining the trust of its customers. The financial penalties may be a different matter; today, the UK Information Commissioner's Office communicated its intent to issue a fine in the amount of $124 million.
Sorenson makes it clear that Marriott remains committed to adopted innovative technologies and digital capabilities that enhance the guest experience. This includes, first and foremost, mobile apps that are already revolutionizing the next generation of customer service, by providing immediate access to information and delivering a more personalized and anticipatory stay experience.
The company also seems to understand, as discussed here, that technological advancements will never replace face-to-face human interaction. Rather, technology can help free up hotel staff to better serve its guests through more relevant and personalized experiences.
Given all this, it's no surprise that Marriott International has received widespread accolades for its technology innovation and, in fact, was ranked as the only hotel company in the top-25 list for the past two years on Forbes World's Most Innovative Companies. And when it comes to technology innovation,  the company, it seems, is only getting started.